I was walking during my holidays when I saw this very nice bottle on a shop for just 19€, around £16, so I thought what the hell, let's buy it.
And here I am reviewing it for you.
"Umm! First time I tasted this one I was quite dissapointed but after tasting it again on a copita glass this Kraken shows a really nice side"
85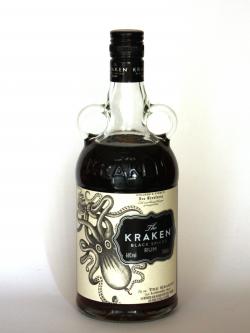 70cl / 40% - A dark spiced Caribbean rum introduced to the UK in Spring 2010, Kraken's old-style bottle and superlative packaging seem to earmark it out for greatness, and perhaps it will help some of those many thousands of punters nursing an old-recipe-Sailor-Jerry-sized hole in their hearts.

This dram has a treacle-like color.

Nose (82): more than average. sugar cane, vanilla, citrus, cinnamon, nutmeg.

Palate (87): smooth, oily. sugar cane, brown sugar, nutmeg, candies, coca cola, spices, cinnamon.

Finish (85): longer than average. sugar cane, brown sugar, spices, burnt sugar.

So based on other whiskies I have already tasted I rate this Kraken Black Spiced Rum with 85 points over 100.
Buy this bottle at
Save money when you buy Rum online. Check for the best prices from best online shops below: