Day 2 of Maverick Drinks' Whisky Advent Calendar. It is fun because this next Monday I will do a Twitter Tasting about exactly this whiskey…
"Irish. It is nice but I prefer less light and fresh whiskies. If you are a fan of Jameson, this whiskey will nail it!"
87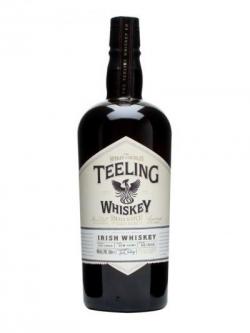 Since the Teelings parted company with Cooley, the company they started, we've been waiting for their return and here it is - Teeling Whiskey. Finished in rum casks and bottled at 46% without chill-filtration it's an excellent statement of intent. The blend is said to contain a high proportion of first fill bourbon casked whiskey, and a higher-than-normal ratio of malt to grain.

This dram has a gold-like color.

Nose (87): more than average. honey, citrus, fresh, vanilla, flowers.

Palate (87): powerful, oily. honey, vanilla, citrus, flowers, spices, wood.

Finish (87): longer than average. honey, citrus, spices.

So based on other whiskies I have already tasted I rate this Teeling Small Batch Whiskey / The Spirit of Dublin with 87 points over 100.
Buy this bottle at
Save money when you buy Irish Whiskey online. Check for the best prices from best online shops below:
You can order your own #whiskyadvent calendar at Master of Malt. Hurry up! Or you will have to drink it all on the same day :)