Another boutique whisky from yet another blender… but ka-boom! This stuff is really nice. Not sure why but The Whisky Lounge went totally under the radar for me.
"Maybe 10 to 12 years and a bit over the limit on the sherry side. All what you can expect from a sherry bomb. I like"
90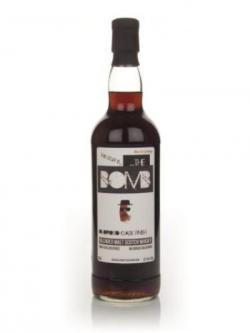 This dram has a treacle-like color.

Nose (90): more than average. honey, leather, raisins, wood, cinnamon, citrus.

Palate (90): . honey, raisins, cocoa, wood, citrus, leather, wood, spices.

Finish (90): longer than average. honey, leather , wood.

So based on other whiskies I have already tasted I rate this The Bomb - Oloroso Cask Finish (The Whisky Lounge) with 90 points over 100.

Keep an eye on these guys because there is good sincere whisky there.