Lots of Bruichladdich on my sample box so I have decided to start tasting from the most interesting ones: Two of the new Cuvee whiskies and the new Bruichladdich 22 years old.
These three whiskies keeps loyal to the style of whisky that Jim McEwan set on the whole range of Bruichladdich malts: citrusy, sweet, unpeated. I love his work on Bruichladdich 10 years old Laddie whisky and I was really looking forward to tasting these malts.
I have sorted them by age with the Cuvvee Eroica y Berenice being 21 years old. So the whiskies
The whiskies
Bruichladdich Cuvee 640 Eroica
[Error missing bottle: ]

Bruichladdich Cuvee 382 La Berenice
[Error missing bottle: ]

Bruichladdich 22 years old The Laddie
"Nice nose on this Laddie with notes of red fruits and more than a hint of peat on the palate. I like it but it isn't a huge step over younger bottles of Bruichladdich"
90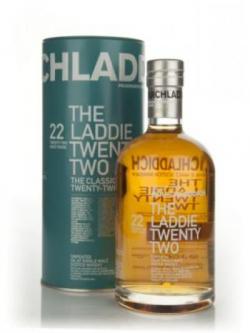 This dram has a gold-like color.

Nose (91): more than average. honey, citrus, spices, vanilla, pepper, lavender, cherries. Quite nice with notes of spices and red fruits.

Palate (91): powerful, oily. honey, peat, wood, spices, vanilla, pepper, fruits.

Finish (89): longer than average. citrus, wood, spices.

So based on other whiskies I have already tasted I rate this Bruichladdich Laddie 22 Year Old with 90 points over 100.
Buy this bottle at
Save money when you buy Single Malt Whisky online. Check for the best prices from best online shops below:
Miguel says
I find the Cuvee whiskies slightly overpriced ( what the fuck! Everyone got mad?! ) but the 22 years old Laddie is quite a gentle delicious dram. I will not buy it thought, I think I can get better stuff with £80…