You all know that I have a kind of passion for collecting rare whiskies from all around the world, so when I knew about this South Africa grain whisky I decided that it was a chance I couldn't miss… and now it has come the time to taste it.
"It is a fantastic grain whisky for the price. I am really looking forward to taste this one with ten years more"
87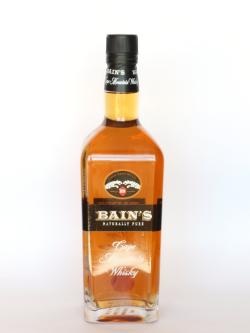 Bain's Cape Mountain Whisky – produced in Wellington and named after the man who built the first road there – has actually been on the market for the past year, but has just returned triumphant from major drinks competitions in the UK, where it took a gold medal and best-in-class citation at the 2010 International Wine and Spirits Competition and a silver at the 2010 International Spirits Competition.

This dram has a gold-like color.

Nose (84): average. honey, corn, citrus, vanilla, wood. Slightly young but quite promising.

Palate (89): light, smooth. honey, corn, vanilla, liquorice, citrus, salt, wood, cinnamon.

Finish (88): average. honey, vanilla, cinnamon.

So based on other whiskies I have already tasted I rate this Bain's Cape Mountain Whisky with 87 points over 100.
Buy this bottle at
Save money when you buy Grain whisky online. Check for the best prices from best online shops below:
Miguel says…
Quite nice and it had a really good price. I really look forward to see an older version of this whisky that could be quite sensational. Have you taste this one? How old would you say it is?