I always have at home a bottle of Balvenie 12 years old Doublewood. I love it. It is a good whisky with lots of flavour and a very interesting price. So I was quite happy when I knew that The Balvenie released a 17 years old Doublewood.
The Balvenie 17 years old is "slightly" more expensive than the 12 years old. So my question and the one you perhaps are asking yourself, Is it worth the price?
"Quite nice Balvenie with a hint of age not seen on the younger versions. A real nice treat if you ask me"
90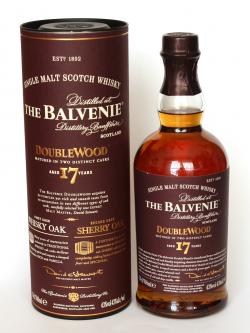 Another fantastic invention from the workbench of Balvenie Malt Master David Stewart - a 17 year old version of the best selling DoubleWood. Still initially matured in'Whisky Oak' casks before being switched to sherry wood to finish, the extra years give it extra depth without being overpowering.


This dram has a amber-like color.

Nose (90): more than average. honey, spices, cinnamon, vanilla, tobacco, wood.

Palate (91): powerful, oily. honey, vanilla, wood, cinnamon, vanilla, nuts, candies.

Finish (90): longer than average. candies, citrus.

So based on other whiskies I have already tasted I rate this Balvenie 17 Year Old / DoubleWood Speyside Single Malt Scotch Whisky with 90 points over 100.
Buy this bottle at
Save money when you buy Single Malt Whisky online. Check for the best prices from best online shops below:
Well, it is a quite nice whisky. I bought one bottle but if you ask me if I will change my 12 years old for this one I have to say that I don't.