When I first read about Balvenie Tun 1401 I was quite excited because I love the idea and lots of people seemed to love the whisky. I was quite dissappointed when I learnt that it was beyond my pocket size at launch time…
So I forget about it until I recently found a sample of it for a reasonable price. And so I tasted…
"All the lovely Oloroso character of Balvenie with a touch of sweet sherry. SImply gorgeous...if only it wasn't so expensive"
91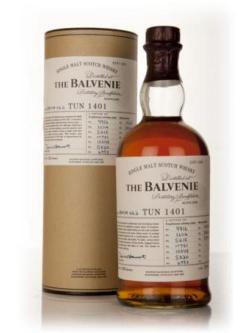 The long awaited follow up to the distillery only first batch, Tun 1401 Batch 2 is named for Malt Master David Stewart's favourite marrying tun, used to create this whisky. It's a multi-vintage combination of sherry and bourbon cask whiskies from the late 1960s through to the late 1980s and elegantly blends age and (comparative) youthful vigour.


This dram has a cooper-like color.

Nose (90): more than average. nuts, wood, honey, citrus, sulphur, peaches.

Palate (92): powerful, oily. nuts, honey, citrus, spices, flowers, pepper, vanilla, liquorice. Fantastic flavor!

Finish (91): longer than average. honey, liquorice, wood.

So based on other whiskies I have already tasted I rate this Balvenie Tun 1401 - Batch 2 with 91 points over 100.

My advice is Buy if you can afford, it is a sensational dram, but it is too expensive for my pocket. Much like the excelent Balvenie 30 years old… Damn!