Incredible evening with Berrys Bros & Rudd Whisky, Steve Rush and the rest of the amazing panel of tasters with @OliverKlimet, @cowfish, @BBRrob, @weheartwhisky, @EdinburghWhisky and @themisswhsiky between others under the #BerrysWhisky hashtag. (By the way, follow me @whiskywardrobe if you aren't already :) )
This tasting has been quite an odyssey for me. The parcel was supposed to arrive home at beginnings of the week and it was Wednesday and it still haven't arrived yet. I was starting thinking that I may miss the most incredible Tweet Tasting of the year so far.
When I arrived home I saw a note from the postman that said my parcel has been attempted to be delivered but that I wasn't at home. Shit!. It continued reading like please, take this note to your post office to retrieve it no sooner that next day. Fuck!
Tweet tasting day! Back from work, yeah, the stuff that pay the whisky bills. I get my car and get the parcel! Only two hours for the tasting to begin. As someone said it was a real close shave! But there I was!.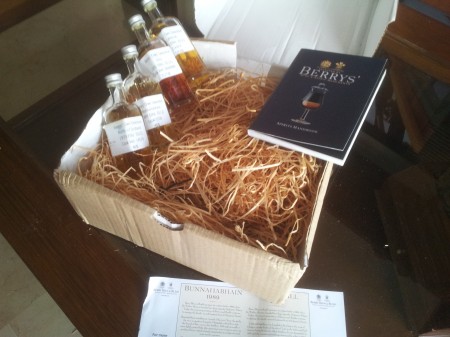 The presentation of the samples is simply gorgeous with a very nice book explaing what Berry Bros are about and several pages write tasting notes. Looking at the photos of the shop I really wonder I chose wisely when visiting Milroy's of Soho instead of Berry Bros… ( Did I? )
Berry Bros and Rudd
Established at No.3 St. James's Street, London since 1698, Berry Bros started as a wine merchant, described by Charles W. Berry as "the closest link between people that make the wine and people that drink it". Well said sir!.

(Photo by Bill Reid Photography)
Soon and fast spirits became a mainstay of Berrys' business along as wines as Sherry, Madeira, Port and French wines.
Nowadays Berry Bros and Rudd is has it own range of Single Malt and Grain whiskies, Cognacs, Armagnacs and Rums all of them sourced from the very best crafters, and they are really not joking about it.
I have learnt that Berrys Bros is behind Cutty Sark, The Glenrothes Vintage bottles and Blue Hanger. I definitively want to put my lips on that Blue Hanger. I have only read good things about it.
The whiskies
For most tweet tastings I have done with Steve, I have joined but I have no clue what I was going to taste until the whiskies arrived home. This was no different. But just a few days ago, while at work I got an email explaining the drams we were going to enjoy. I couldn't but to start laughting. "Oh my! A 1973 North of Scotland?! Oh No! Oh no! 1976 Jura?! A 1992 Littlemill?!! WTF! It is Christmas day already and I forgot?".
This is definitively one of the best tastings flights I have done this year… and I have tasted quite a few drams so far…
Hey, but let's talk whisky, enough chit chat. Time to tweet!
First dram of the night was the cask strength Littlemill. What?! Before a 46% grain whisky? Serious? Well, let's give it an opportunity.
Littlemill 1992 Berrys' Own
Oh my God! I have the four glasses covered with lids and you can't imagine how good it still smells here.
North of Scotland 1973 Berry Bros Cask 14570
Hahaha! Incredible I am enjoying more than pigs in mud!. What an awesome tasting! Mother of God! Just look at the color of this next whisky! Oh my! This delightful smell again!

Isle of Jura 1976 Berry Bros BBR888
Not a bad price… but still quite high for my budget. Haven't I bought a Bourbon cask matured Karuizawa 1984 I would have tried to buy this one.
Bunnahabhain 1989 Berry Bros Cask 5755
Miguel says…
What?! You are still reading?! Good! I have now my chance to order this stuff before it sold out. Definitively one of the best tastings of this year and by far the best tweet tasting I have joined.
My favorite were Jura 1976, North of Scotland 1973 and Bunnahabhain 1989, in that order. The Littlemill was quite an experience but I am no man of floral drams.
Fellow bloggers posts
These are post from other friends who attended the tweet tasting:
http://whisky-discovery.blogspot.com.es/2012/11/berry-bros-rudd-tweet-tasting.html
http://www.thewhiskywire.com/2012/11/the-whisky-wire-berry-bros-rudd-tweet.html
By the way Anyone with experience with Berrys' rums and cognacs? Any recommendation?