Very old grain whiskies are something nasty and spesky… you shouldn't drink them. But I did the supreme sacrifice in your name and tasted this Cameronbridge. Well! What can you expect of a beverage created in something more close to an oil refinery than a whisky distillery? Move on, move on… it is all mine :)
"All you can expect from a very old grain whisky. I really love this style of candies, fruits and spices"
92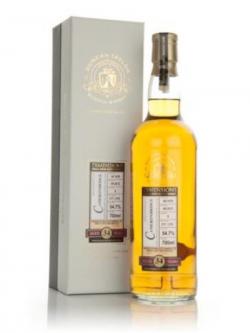 This dram has a amber-like color.

Nose (92): more than average. honey, flowers, vanilla, candies, ginger, cherries, wood, cinnamon.

Palate (93): powerful, oily. honey, spices, wood, candies, flowers, cinnamon, ginger, pineapple.

Finish (92): longer than average. honey, pineapple, vanilla.

So based on other whiskies I have already tasted I rate this Cameronbridge 34 Year Old 1978 - Dimensions (Duncan Taylor) with 92 points over 100.

Miguel says…
Just to think that a few years ago you could buy this stuff for less than £100… a damn fantastic whisky if you want my opinion.