From the author of don't invest in whisky and why Johnnie Walker will kill you, I introduce today a question that has been hitting my since I visited The Whisky Show 2013.
While I was there, I attended the Girvan Single Grain Whisky Tasting with… erm… nevermind I don't remember his name. It was an interesting tasting with a little Powerpoint explaining us how the Girvan plant was built, how big it was and how much alcohol it can produce. Then, we tasted three whiskies, a 25 years old, a one without name but very young and a 30 years old.
You all know that I am from Spain, and well, English isn't my main language and we Spaniards don't stand for our skill learning other languages so for me it is for me hard to write and really express what I want to say but I have a bigger issue when talking and listening to english ( I am improving )… so during the tasting I think I listened the person in charge explain us that this "quite special" Girvan whisky was going to have a retail price of £250. What. The. Hell. £250!. It must be my english. Damn! Two Hundred Fifty. It can't be right.
I really think you can't explain how big and how much alcohol Girvan produce and then try to "sell" me a bottle of whisky as something special with a special price tag… C'mon! You have another 60 million litres of it on casks, every year.
With malt whisky we are "suffering" a similar experience with more and more expensive releases each day. It is like a competition about who charge more for its whiskies. So my question is: Do you think it is legit? Where is the limit? When is it enough?
I have recently bought some stupid bottles of whisky mainly because I am half-collector half-crazy, things like Highland Park Loki, Macallan Ruby or Glenlivet Alpha. But really to pay £250 for a whisky that I can get four times cheaper ( or two times older for half the price ) from Douglas Laing is not crazy, it is just stupid.
Here is the whisky tasting note if you were wondering about it
"Impressive. A very good Girven single grain whisky that really can rival whiskies of almost twice its age"
92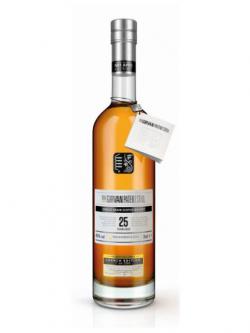 This is maybe the first old whisky bottle of Single Grain whisky bottled by the Girvan distillery themselves.

This dram has a fino-like color.

Nose (92): more than average. corn, honey, spices, apples, cinnamon, vanilla, nutmeg.

Palate (92): powerful, oily. corn, honey, spices, cinnamon, citrus, vanilla, white chocolate.

Finish (92): longer than average. corn, spices.

So based on other whiskies I have already tasted I rate this Girvan Patent Still 25 years old with 92 points over 100.
Buy this bottle at
Save money when you buy Grain whisky online. Check for the best prices from best online shops below:
Is it good? Yes. Is it quite good? Yes. Is it good enough to pay £250 for it? In no way. I tasted last year a Carsebridge 45 years old from Douglas Laing that was even better and it was worth only £99. So my say here is that it is a very good whisky with a horrible price. Don't buy.