"Perhaps the best Ardbeg I have had. Quite delicious complex nose."
92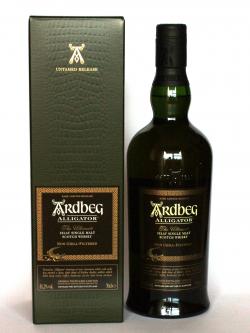 It's aged in a similar style to the standard 10 year old, except for the fact that a portion of the whisky was aged in heavily charred barrels.

The barrels are charred to such an extent that they start to crack a little on the inside, and this resembles alligator skin, thus the name.

The committee release of Ardbeg Alligator was exceptional and incredibly popular.


This dram has a amber-like color.

Nose (93): more than average. sweet, peat, honey, citrus, vanilla, cinnamon, coffee. Hell more than intense than standard ten years old.

Palate (92): powerful, oily. peat, honey, citrus, vanilla, salt, wood, pepper, dark chocolate.

Finish (90): long. peat, spices, honey, citrus, burnt wood.

So based on other whiskies I have already tasted I rate this Ardbeg Alligator Untamed Release with 92 points over 100.