With a few days of delay here they are! Malt Maniacs Awards 2012.
They hold our 10th edition of Malt Maniacs Awards and as they say: "it is with great pleasure we now present to you the results of our labours over the last two months as 10 strictly amateur judges from our collective have tasted, nosed, sampled and re-sampled all the entries and submitted their final scores."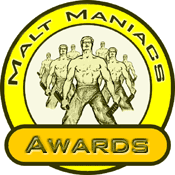 Ten judges, almost two hundred numbered samples, two months, only ten Gold medals.
What I like most of Malt Maniacs Awards is the fact that everything is run blindly. It is really a great way of awarding the best whiskies and forget about the PR. As usual, hurry up if you want to buy any of the awarded whiskies for their original prices ( that's the downside :( )
So here they are the whiskies awarded…

The bottles
There may be missing some bottles of which I don't have any image.

The complete list
You can find the complete list at http://www.maltmaniacs.net/awards/