"Where have you been all these years?! A reason to live!"
92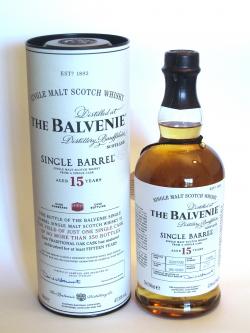 The Balvenie Single Barrel Single Malt Scotch Whisky is a 15 year old single malt which is drawn from a single bourbon cask of a single distillation.

Each cask forms a limited edition of hand-numbered bottles - there will be a maximum of 350 bottles from any one cask - so each bottle is unique and unrepeatable.

Each cask is subtly different, however, The Balvenie Malt Master selects for bottling only those casks that have the essential characteristics of The Balvenie Single Barrel - particularly honey, vanilla and oaky notes.


This dram has a gold-like color.

Nose (92): strong. biscuits, honey, vanilla, a little cinnamon.

Palate (93): oily, powerful. peaches, honey, wood, tobacco, vanilla, a little nuts. Very good taste.

Finish (90): very long. peaches, wood, honey, tobacco.

So based on other whiskies I have already tasted I rate this Balvenie 15 year Single Barrel with 92 points over 100.
Buy this bottle at
Save money when you buy Single Malt Whisky online. Check for the best prices from best online shops below: