"A floral and very old Red Czech whisky. Really nice with a great taste. A pity this is the first and only batch existing."
88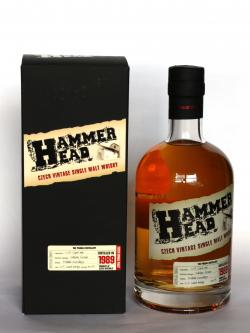 Hammer Head is a Czech single malt produced in 1989, just before the fall of the Berlin Wall, which changed forever Eastern Europe.

Developed in the distillery Pradlo in western Czechoslovakia, Hammer Head is the only single malt made in Bohemia.

Discovered by accident just last year by its new owners, it was designed at the time from a local barley and aged exclusively in oak Czech barrels.

In terms of taste, it emanates from his frailty and his speaking youth an atmosphere full of romance ... and only 80,000 bottles are available.


This dram has a fino-like color.

Nose (88): strong. citrus, floral, vanilla, a little peaches, wood, a bit biscuits.

Palate (89): light. candies, floral, citrus, wood, vanilla, spices.

Finish (88): longer than average. citrus, vanilla, a little liquorice.

So based on other whiskies I have already tasted I rate this Hammer Head with 88 points over 100.
Buy this bottle at
Save money when you buy Single Malt Whisky online. Check for the best prices from best online shops below: