Destilerias Liber creates Embrujo de Granada whisky at Padul, in the south of Granada, Andalusia. It is the first Spanish single malt whisky to be commercialized.
Foundations
Destilerias Liber is the dream of a man, Fran Peregrina, about making whisky on the south of Spain, just under Mulhacén, spanish mainland highest mountain. Their whisky is crafted with passion, and patience, using cooper stills, the best barley from near fields and the pure water of Sierra Nevada, to mature later in the darkness of the warehouse sleeping in pedro ximenez oak casks.
Destillerias Liber was founded in May of 2001 and started operations in December of 2002. It started as a cooperative of 55 partners, most of them friends. The whole process is run by three of them. Embrujo de Granada is an artisans whisky.
The Process
The idea of creating a distillery at the south of Spain was inspired into Francisco Peregrina after reading "El Amante del Whisky" ( Whisky Lover ). They decided to run the full process at the distillery: flooring, brewing, distillation and maturation in american oak casks.
Brewing
The water that comes from Sierra Nevada natural park and the malt is choosen from near fields. After that malt is milled and mixed with hot water to create the grist. The wort is then filtered and the yeasts are added to it to start the fermentation that last between 48 and 72 hours. The result is a beer of around 6º to 8º.
Distillation

The stills, created by a copper artisan at the Albaicin, Granada and designed by Liber, distills the beer two times: the first up to 25º to 30º and the next day removing heads and tails up to 60º.
Ageing
This spirit is stored in american oak casks of 600 litres that contained Pedro Ximenez sherry for ageing. The whisky is matured at the warehouse around 5 years before being reduced to 40º and bottled from a single cask. The maturation is faster than scotch whisky because the weather alternates very hot summers with cold winters. The angel's share varies between casks but it is around 6% per year.
Embrujo de Granada: the Whisky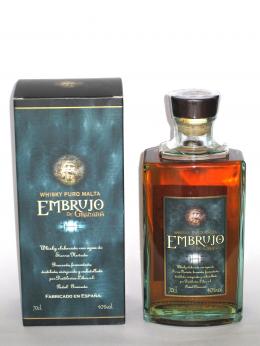 The whisky is not coloured nor chill-filtered. Each batch consists of a single cask although sometimes it is blended with other casks to keep up a standard flavor and color.
Read the tasting note.