"Woo! Serious stuff! It is so much better that the last I tried. Scots be scared!"
92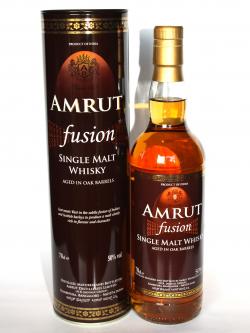 This high-strength Amrut Fusion gets its name from the fact that it uses two barleys: Indian and Scottish - with the latter being peated for good measure.

A really excellent mouthfeel and palate combining oak, smoke, dark fruit, mocha and high-cocoa dark chocolate. Delicious stuff.

This Amrut was the 3rd best whisky in the world in Jim Murray's Whisky Bible. Definitively something not to miss!


This dram has a amber-like color.

Nose (92): strong. honey, peat, fruits, a little nuts, spices, vanilla, raisins, cocoa. Better nose than the standard Amrut. It is more complex and darker, like a Tim Burton film.

Palate (93): smooth, powerful, oily. honey, peat, fruits, nuts, raisins, vanilla, wood, citrus.

Finish (92): longer than average. honey, wood, spices, nuts.

So based on other whiskies I have already tasted I rate this Amrut Fusion with 92 points over 100.
Buy this bottle at
Save money when you buy Single Malt Whisky online. Check for the best prices from best online shops below: