I love Japanese whiskies, in fact one of the first whiskies I have ever had was a Yoichi 10 years old when I read something in the newspaper about the best whisky in the world. I was around seven years ago and ( I still have no clue about how it ended there ) I found a Nikka Yoichi 10yo on the shop where I used to buy my wine. Then I discovered Yamazaki, and Taketsuru and the awesome blended malts of Nikka and finally one day I discovered Karuizawa… Damn day! To taste such great whisky just to learn that it is to never be done again…
Well… maybe this Isawa is a hidden gem. It looks like it was created at Monde Shuzo distillery in Japan's main island.
"Not bad but it is quite light, much like a blended whisky. Japan produces better whiskies that this Isawa"
86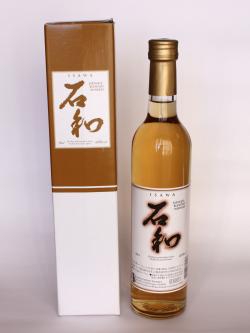 This dram has a fino-like color.

Nose (87): average. honey, citrus, cardboard, wood, floral, spices .

Palate (85): light, smooth. honey, spices, pepper, citrus, wood, floral, vanilla.

Finish (85): average. honey, citrus, spices.

So based on other whiskies I have already tasted I rate this Isawa Japanese Blended Whisky with 86 points over 100.

I didn't like it enough. You can get better stuff for its price.