First time I read Loch Lomond I had no idea what they were talking about, later I discovered that it is a Loch Lomond still is a special kind of still that can alter the way that it works easily making different types of whiskies. So many that in fact Loch Lomond released up to seven different types of whiskies between single malts and blended whiskies.
Here I am reviewing their most basic single malt offer, the entry level Loch Lomond Single Malt.
"Not sure what to make with this whisky... It could be a moscatel finished highlander?"
85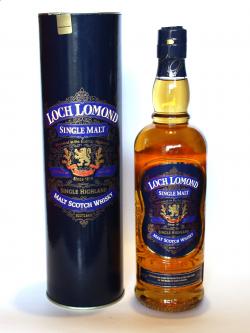 A mellow, slightly peaty nose, with a hint of brandy butter. The taste on the palette is sweet, smokey, with hints of finest Madeira wine and has a long, mellow finish, with echoes of a raisiny Christmas pudding.


This dram has a gold-like color.

Nose (84): more than average. honey, fruits, raisins, citrus, vanilla. I have tasted this before... Highlands?

Palate (85): powerful, oily. honey, citrus, fruity, wood, vanilla.

Finish (86): longer than average. honey, wood, tobacco.

So based on other whiskies I have already tasted I rate this Loch Lomond with 85 points over 100.

Not recommended… unless you want to appreciate good whisky. This Loch Lomond makes good whiskies look even better.