Holy shit! This is the vilest, nastiest, hottest dram from Master of Malt I have ever tasted… and I love it!
Just kidding! This vodka is infernal! I haven't even properly tasted it… I just had a small drop, not even a sip, to taste it. As soon as the vodka's little drop touched my lip a burning feeling started spreading all along the mouth, the throat and the stomach.
Master of Malt's 250,000 Scovilles Naga Chilli Vodka
"Infernal beverage! So hot that a simple drop of this vodka turn your drink in a hot hot dram."
32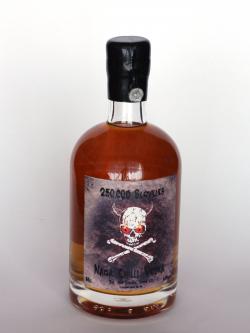 Master of Malt has created a monster, summoned from the very bowels of hell, formed in a vile carboy filled with a horrid mound of Naga Jolokia chillies (the world's hottest chillies), steeped in grain vodka. We've packaged it in a handsome, heavy glass bottle with industrial-grade sealing wire and lead security seal (with a skull and crossbones embossed on it).

To get to this bottle, you'll literally have to open it with wire cutters, but we strongly recommend you don't. In fact, this unspeakable 250,000 Scovilles vodka is a chilli vodka so horrendous we suggest you don't even purchase it. Please just shut down your computer and have a nice cup of tea instead. Try to forget what you saw.

This dram has a gold-like color.

Nose (65): weak. green chilli, citrus, alcohol. Not sure I want to taste this...

Palate (30): powerful. sweet, hot, hot, WTF! Mother of God! Arrgghhh! Arrrgggahh! Water! Water! WAAAATTTEEERR!.

Finish (0): no finish. finish?! Finish! what finish? It killed my tasting buds for hours!.

So based on other whiskies I have already tasted I rate this 250,000 Scovilles - Naga Chilli Vodka 50cl with 32 points over 100.
Buy this bottle at
Save money when you buy Vodka online. Check for the best prices from best online shops below:
I desperately needed water, but water can't calm this fire. Good luck that I have a yoghurt in the freezer. It did the work.
Miguel says…
So how this infernal beverage is best used?! Master of Malt discourages using it as a joke… umm… I am going to be really popular in the next party as the "guy that dropped something in my drink" :D
This stuff, just a few drops of it, can turn a Bloody Mary in a hot infernally delicious stuff. I will give a try and tell you.
By the way… they infused the vodka using those motherfu***… they don't look so dangerous.