Hello there,
Wooo! It has been almost a year since last time I wrote on the blog. I could write lots of excuses but to be fair… I got a bit exhausted of writing here and decided to do something else with my time. Unfortunately I became Youtuber. I run a youtube gaming channel and I am enjoying it a lot… but from time to time, I watch my whisky bottles and I feel a bit nostalgic.
So when Drinks by The Dram told me about 2016 Calendar I couldn't but jump and shout like a teenager. I am a bit fan of the idea behind this whisky advent calendar, for £149.99 you get a box full of samples of damn good whisky. Personally I love blind tastings but in case you want to know what are you drinking you can read the full list at their site. I won't write spoilers this year… but I just opened the Day 1 window and found a Lost Distilleries Blend.
Most of the whisky contained in The Whisky Advent Calendar are simple awesome and in fact there are a few that I have never tasted. And that is something hard to see. I really encourage you to have the first sip of the whisky blind so you can make yourself an opinion of what you are drinking before being assault by years, alcohol content, regions, distilleries… It is so easy to get conditioned by all that data…
Anyway, let's taste this The Lost Distilleries Blend whisky.
The Lost Distilleries Blend Batch 8
"A great kick of honey and tangerine with good amount of spices and something that could be peat or smoke that make the whole stuff simple delicious. A humbling experience"
90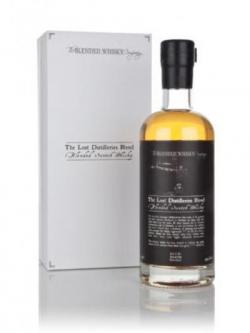 The Lost Distilleries Blend is a truly extraordinary whisky made exclusively with malts and grains from renowned, but sadly closed, Scottish distilleries. The surviving stock from these once great distilleries has become legendary in many cases, and is highly sought after by enthusiasts and cognoscenti. They are pieces of liquid history, lovingly crafted into this wonderfully balanced, multi-award-winning blended whisky.

This dram has a fino-like color.

Nose (90): more than average. vanilla, honey, cinnamon, citrus, wood, grapes, butterscotch, tobacco, sandalwood.

Palate (91): powerful, oily. honey, citrus, spices, pepper, vanilla, wood.

Finish (89): longer than average. citrus, honey, spices.

So based on other whiskies I have already tasted I rate this The Lost Distilleries Blend Batch 8 with 90 points over 100.

I hope this little sip of whisky is the first of many to come.
You can, and you should!, buy your own Whisky Advent Calendar at https://www.masterofmalt.com/whiskies/drinks-by-the-dram/the-whisky-advent-calendar/ for £149.99