Wooo! Just woo! Man, I have been almost two years without writing here, but this is going to change! I am back! Really back! Well… not so back! But I want to write more often about the stuff that I drink. Today I am tasting the new Mackmyra expression, their first wide release of a 10 years old whisky. I have already tasted a few Mackmyra whiskies and to be fair I have always found them good stuff but not brilliant. Let's taste this 10 years old.
Mackmyra ten years old
"Fantastic! Lovely sweet nose with a torrent of spices and vanilla when you have a sip. Quite rounded. Delightful dram"
90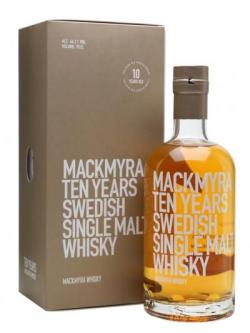 Aged in a combination of bourbon, oloroso-sherry and new American-oak casks for 10 years, this is rich yet elegant, spicy yet fruity, with notes of vanilla, raisin, anise, berries and wood spice.

This dram has a gold-like color.

Nose (91): more than average. honey, vanilla, citrus, flowers, wood, candies.

Palate (90): powerful, oily. honey, candies, spices, vanilla, citrus, wood, pepper.

Finish (90): longer than average. honey, spices, wood.

So based on other whiskies I have already tasted I rate this Mackmyra Ten Years Swedish Single Malt Whisky with 90 points over 100.
Buy this bottle at
Save money when you buy Single Malt Whisky online. Check for the best prices from best online shops below:
A huge hit! I am looking forward to seeing this stuff in 10 years because it is hugely promising! You have just got a fan Mackmyra!