So after reviewing the Virgin Oak finish, today I review the Sauternes finish. Sauternes is a sweet desert french wine made with grapes that have been infected by "noble rot" that partially turns the grape into a raisin.
So after a delicious Virgin (oak), my hopes on this one are high.
"Umm... I really don't like the finish. If you like PX Glendronach this one may be worth trying by yourself "
87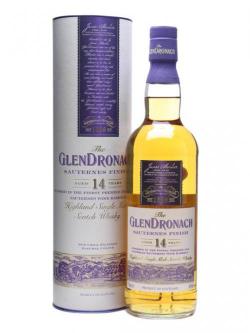 70cl / 46% / Distillery Bottling - Released in summer 2010, this 14yo Glendronach has been finished in Premier Cru Sauternes barrels after initial maturation in European oak. Sauternes finishes can work very well (the 16yo version from Glendronach's sister distillery Benriach is a case in point), so high hopes for this.

This dram has a cooper-like color.

Nose (88): more than average. honey, fruits, citrus, spices, plums, vanilla.

Palate (87): smooth, oily. honey, fruits, wood, cocoa, spices, citrus.

Finish (87): longer than average. honey, cocoa, wood.

So based on other whiskies I have already tasted I rate this Glendronach 14 Year Old / Sauternes Finish Speyside Whisky with 87 points over 100.

Miguel says…
Do you like Parliament? Not the same thing but something similar, not a bad whisky but I don't like the way the finish play on the whisky.