Diageo's Special Releases are quite an event on the World of Whisky. I really stopped paying attention to them a few years ago, tired of prices going up and up and age of the whiskies down and down… but still… if you have the money and don't have anything better to do with it they are usually fantastic drams.
So after a few years with no so unpeated whiskies, this Caol Ila really delivers what it promises. Let's review it
"Unpeated, really unpeated but crazy delicious whisky. The taste is really awesome, damn Diageo... I will have to spend my money"
90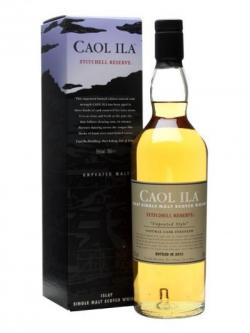 2013's unpeated release of Caol Ila is named for distillery manager Billy Stitchell, who is retiring after almost 40 years at the distillery. This year it's been bottled without an age statement and despite being 'unpeated' there's a definite smoky tang to the whisky, although less so than in previous years.


This dram has a fino-like color.

Nose (89): more than average. honey, citrus, toffee, spices, vanilla, salt.

Palate (91): powerful, oily. honey, salt, citrus, spices, pepper, candies, cinnamon, wood.

Finish (90): longer than average. honey, wood, salt.

So based on other whiskies I have already tasted I rate this Caol Ila Unpeated / Stitchell Reserve / Bot.2013 Islay Whisky with 90 points over 100.
Buy this bottle at
Save money when you buy Single Malt Whisky online. Check for the best prices from best online shops below:
Miguel says…
Lovely! I am a peat head but this whisky is fantastic even if there is no trace of peat in it. Make if half the price and it is a good deal.