I have had this sample for around 2 years and never found time to taste it. Till a few days ago… I like a lot the Ardbeg whiskies profile and some of my best vivid memories of whisky are related to Ardbeg… but when I tasted this one…
"The best most fantastic peated whisky that I have had in a lot of time..."
93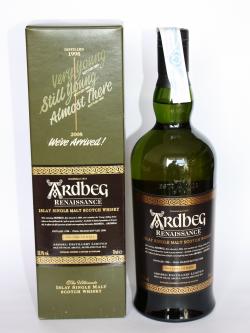 Here at last! It's the Ardbeg Renaissance, the end of the series that began with the 'Very Young' 6 years old. This is the first 10-year old Ardbeg that is entirely comprised of spirit produced after Glenmorangie's takeover of the distillery in 1997.

And it is bottled at cask strength. A great Ardbeg that you can still buy.


This dram has a fino-like color.

Nose (93): more than average. peat, citrus, honey, salt, smoke, vanilla. The fucking peat perfection!

Palate (93): . peat, earth, citrus, honey, vanilla, coffee, salt.

Finish (93): longer than average. peat, salt, honey.

So based on other whiskies I have already tasted I rate this Ardbeg Renaissance with 93 points over 100.
Buy this bottle at
Save money when you buy Single Malt Whisky online. Check for the best prices from best online shops below:
Miguel says…
Speechless, I love this kind of peat. Definitively one of the best whiskies I have tasted so far this year ( if we ignore the Lost Blend from Master of Malt ). Glad that I got a bottle when it still had a decent price. Stuff for enjoying.