Part of the Seven Stars whisky serie from Spirit of Hven this Phecda is a medium peated single malt created completely in the island of Hven, in the strait between Denmark and Sweden.
The name of this whisky derives from the Arab word for one of the seven stars of Ursa Major. And like its two predecessors: Dubhe and Merak, it is the result of a vatting of a few casks… so it is not single cask but pretty close.
Let's review it.
"I love how peat and wood works on this whisky. A fantastic ( and highly recommedable dram ) from Hven distillery with notes of nuts and spices over a honeyed peated malt. Yay!"
90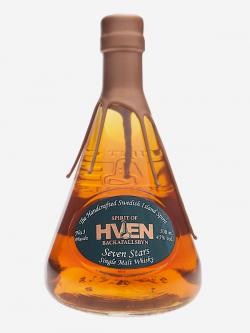 This dram has a cooper-like color.

Nose (89): more than average. honey, spices, citrus, wood, pepper, cinnamon, plums, smoke.

Palate (90): powerful, oily. honey, peat, citrus, nuts, spices, pepper, cinnamon, salt.

Finish (90): longer than average. honey, nuts, wood.

So based on other whiskies I have already tasted I rate this Spirit of Hven No.3 Phecda with 90 points over 100.
Buy this bottle at
Save money when you buy Single Malt Whisky online. Check for the best prices from best online shops below:
Miguel says…
Definitively a great step forward over Merak. This whisky is more mature, slightly more peated and definitively more yummy. Keep an eye on Spirit of Hven because if the progression keeps next releases are going to be quite quite interesting.