After tasting last year a great Glendronach bottled too by Abbey Whisky ( that I bought right after the first sip touched my lips ), I got a few days ago a sample of their new single cask Glendronach. A 20 years old single cask whisky distilled in 1994 and aged in a Pedro Ximenez Puncheon.
As you know, I don't like PX whiskies… I usually dislike how the sweetness and cocoa works on them… but as usual, I tasted this one blind. Let's review it.

"Sherried, powerful, with that lovely vanilla and oranges aromas... and it isn't a Macallan and you can afford it! Yay!"
92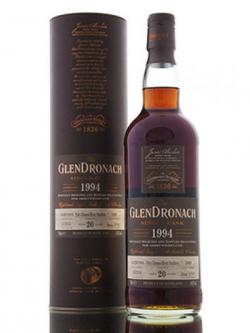 Following on from the resounding success of Abbey Whisky's GlenDronach single cask 33, selecting a new release from a series of cask samples in search of something equally special was no mean feat.

This Glendronach was distilled in 1994 and aged for 20 years in a PX Sherry puncheon before being turned into 672 bottles of single cask whisky.

This dram has a treacle-like color.

Nose (92): more than average. honey, dates, oranges, wood, vanilla, citrus, spices, cocoa, cinnamon, sulphur.

Palate (92): powerful, oily. honey, wood, spices, cinnamon, sherry, cocoa, citrus, dates, biscuits.

Finish (91): longer than average. honey, cocoa, spices.

So based on other whiskies I have already tasted I rate this Glendronach 20 years old 1994 Cask #3400 with 92 points over 100.

Miguel says…
Run you fool! Get one. You don't see 20 years old sherried whiskies for under £100 these days. It is nice to see that there is still people that take care of whisky and sell it for people that actually intent do drink it. Kudos to Abbey Whisky and Glendronach.