"This vodka is liquid smoked pine wood. Really evil. Just Bloody-Mary-lovers pyromaniacs. "
71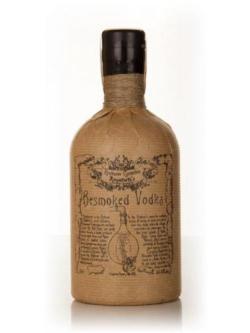 In the quest to create the perfect smoked vodka, dozens of species of wood were sent to their fiery deaths before the ultimate combination was settled upon. The final recipe included Maple, Apple, Cherry, Pecan and Hickory to which was added a sprinkling of aromatic Rosemary.


This dram has a white-like color.

Nose (72): average. alcohol, pine, smoke, wood.

Palate (71): light, powerful. smoked wood, wood, pine, alcohol.

Finish (70): average. smoke, pine wood.

So based on other whiskies I have already tasted I rate this Besmoked Vodka with 71 points over 100.
Buy this bottle at
Save money when you buy Vodka online. Check for the best prices from best online shops below:
Thanks to the chaps at Master of Malt for this official sample.
Not being a cocktail man myself, what kind of cocktail would you make with this vodka?