"Like chewing an Habano cigar! Powerfully intense whisky from Craganmore distillery"
90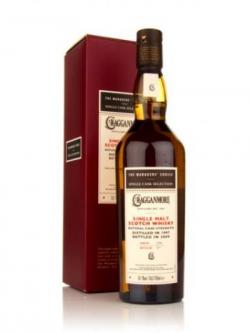 A full-strength Cragganmore 1997 bottled in 2009 from a single sherry cask by Diageo for their Manager's Choice series.

A marvelous cask strength Speyside whisky but Diageo clearly missed the goal when the marketing deparment set the price for the Managers' Choice range.

Awfully expensive.


This dram has a gold-like color.

Nose (90): more than average. honey, floral, fruits, spices, apples, plums, vanilla.

Palate (91): smooth, powerful, oily. honey, spices, floral, some tobacco, vanilla, wood. Very intense with lots of tobacco leaves taste.

Finish (90): longer than average. honey, tobacco, vanilla.

So based on other whiskies I have already tasted I rate this Cragganmore 1997 Managers Choice with 90 points over 100.