Ok, more Glendronach today… a 15 years old Tawny Port, a type of Portuguese Port wine.
This whisky is aged in bourbon barrels and then finished in Port Pipes, a huge kind of cask.
"It is a nice whisky with notes of fruits, spices and chocolate... but the Virgin Oak finish was so nice"
88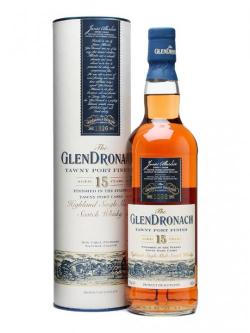 70cl / 46% / Distillery Bottling - Introduced to the Glendronach range in 2011 the 15 year old Tawny Port finish continued the distillery's new owner's plans of taking the bourbon matured whisky from the old owners and bringing it more into line with their idea of the traditional taste of Glendronach. This one has spent the last few years of its time in cask in Tawny Port casks, picking up lovely red fruit flavours.

This dram has a cooper-like color.

Nose (89): more than average. honey, fruits, citrus, vanilla, apples, cinnamon, cocoa.

Palate (88): powerful, oily. honey, wood, fruits, apples, citrus, spices, cinnamon, chocolate.

Finish (88): longer than average. honey, citrus, cocoa.

So based on other whiskies I have already tasted I rate this Glendronach 15 Year Old Tawny Port Finish Speyside Whisky with 88 points over 100.

Miguel says…
Umm… still… I prefer the Revival or the Virgin Oak finish. Not my favorite… but I don't really enjoy this kind of "experiments". Whisky is for ageing in Oloroso sherry oaks ano nothing else :)