And to finish my review of finished Glendronach whiskies, today I review the 15 years old Moscatel finish dram. Moscatel is a kind of Spanish wine doing with grapes from the Moscatel variety. They are very sweet and most of them are half-grape, half raisin.
So let's review this Glendronach 15yo Moscatel Finish.
"That's a pretty interesting whisky. Not as great as the 15yo Revival but quite quite drinkable. From a man that doesn't enjoy sweet wines finishes"
89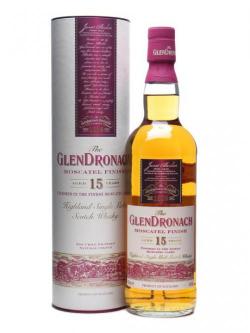 70cl / 46% / Distillery Bottling - This 15yo Glendronach was originally matured in European oak before a finishing period in Moscatel, the (normally) Iberian fortified sweet wine, which has added an extra layer of tropical fruit and marzipan aromas and flavours.

This dram has a gold-like color.

Nose (89): more than average. honey, citrus, vanilla, raisins, wood, toffee.

Palate (90): powerful, oily. honey, wood, citrus, spices, wood, leather, chocolate, sultanas.

Finish (89): longer than average. honey, spices, raisins.

So based on other whiskies I have already tasted I rate this Glendronach 15 Year Old / Moscatel Finish Speyside Whisky with 89 points over 100.

Miguel says…
Quite interesting I say, if you enjoyed Parliament go and give it a try you will enjoy this one.