Well, after knowing about it in November I launched myself into buying one bottle because the price wasn't that bad for a 33 years old whisky ( although a big part of it is 40 years old ). But it haven't been till now that I have come to taste it ( damn you LEGO! ).
So here is my review of the General, another awesome blend by Compass Box.
"Oh. My. God. Lovely whisky. Imagine an old ( and I mean OLD! ) malt whisky blended aged in bourbon or refill casks with a hint of old ( OLD! I mean ) rye whiskey. All my thumbs up"
92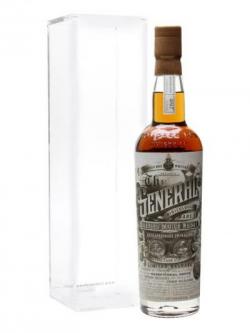 A 2013 release, Compass Box's The General is made from two parcels of blended scotch whisky, both of which were blended at a young age and then left to mature in the cask. At the time of bottling one was 33 years old and the other 40. Aged in a combination of bourbon and sherry casks, this is soft but with an incredible complexity.

This dram has a cooper-like color.

Nose (92): more than average. honey, flowers, dust, wood, orange zest, vanilla, spices.

Palate (92): powerful, oily. honey, flowers, wood, citrus, spices, liquorice, cloves, fruits. I swear I have taste something like this before.

Finish (92): longer than average. spices, fruits, honey.

So based on other whiskies I have already tasted I rate this Compass Box The General Blended Scotch Whisky with 92 points over 100.

Miguel says…
Would I buy it again? Definitively. Now that I read the description of the bottle I have noticed that it wasn't as sherried as Glenfarclas 40yo even if it comes from a sherry cask. Anyway… do yourself a favour and get one :)