Aye! You have money, and you want people to notice, to know, to envy you. What do you do? Well… you realize that you are not so fucking rich, so you go and buy a bottle of this expensive Chivas. Chivas 25 years old.
Another post for the Fucking thief. Stealing other persons' whisky so you can know about it. Is this your photo? Write me to fthief@awardrobeofwhisky.com and I will pay you… homage… and share with A Wardrobe of Whisky's readers your experience on the tasting. Slainte!
Let me review it and then I share with you my opinion.

Chivas 25 years old
"Maybe the best Chivas whisky I have ever had! No, I am serious... this stuff is really awesome"
91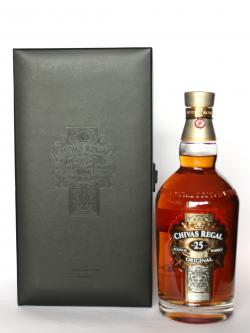 The exclusive new Chivas Regal 25 pays homage to the first ever Chivas Regal blend.

This first Chivas whisky was also a 25 Year Old whisky, which was shipped from Aberdeen, Scotland to New York in 1909 to satisfy the sophisticated palate of American high society. It quickly became the most talked about tipple of distinguished Americans and developed into a global icon.

You are paying a hell more than the whisky is worth just to the beautiful bottle and the awesome box but who can say no to this?!

This dram has a gold-like color.

Nose (91): more than average. honey, citrus, floral, smoke, vanilla.

Palate (92): powerful, oily. honey, oranges, citrus, floral, vanilla, smoke, pepper.

Finish (90): longer than average. honey, peat, vanilla.

So based on other whiskies I have already tasted I rate this Chivas Regal 25 year with 91 points over 100.
Buy this bottle at
Save money when you buy Blended Whisky online. Check for the best prices from best online shops below:
Miguel says…
It is a great whisky, and definitively the best Chivas whisky I have had. Is it expensive? Well, you are paying for a status symbol, for a nice bottle and for a great whisky… not so expensive for how things are actually.
Remember, the fucking thief always welcome new challenges so send your photos to fthief@awardrobeofwhisky.com and I will taste your whisky. Thief's word.