It is a pleasure to visit every year The Whisky Exchange Whisky Show because there are great whiskies waiting for me. One of the definitively most interesting stands is Douglas Laing one because they have very good whiskies and they are still priced in such a way that it looks like they really want you to buy them… ( Who the fuck can pay £2000 for a Lagavulin?! ).
It is a pleasure to be there between all the Clan Denny awesome stuff, their Director's Cut, this year new range of Old Particular and of course Big Peat. You all know that I love peated whiskies… so I was slightly disappointed when I first tasted Big Peat and it didn't fulfill my expectations, it was peated but no big peated at all… so when I tasted Big Peat Xmas 2012 Limited Edition I was taken by surprise by an awesome whisky. You can imagine how happy I was when I saw Big Peat Xmas 2013 this year.
So, let's taste the whisky.
"Absolutely delightful whisky with a nice peat punch... although I want to believe that last year whisky was slightly better"
91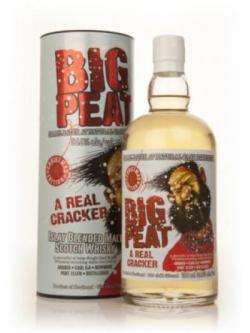 This dram has a white wine-like color.

Nose (91): more than average. peat, smoke, citrus, vanilla, earth.

Palate (91): powerful, oily. peat, earth, honey, citrus, vanilla, coffee.

Finish (91): longer than average. peat, smoke, spices.

So based on other whiskies I have already tasted I rate this Big Peat at Christmas 2013 with 91 points over 100.

Highly recommended. But if you can find it, grab the 2012 version. It was slightly more "macho" :)