Just next to the lost Brora distillery there is a copy of it named Clynelish that produces a similar malt whisky, or so they say. The true is that there is nothing like old Brora whiskies and Clynelish whiskies that I have tasted are nowhere near it.
This Clynelish that I review today is part of the Distillers Edition that Diageo releases annually from their distilleries stable ( You should really check their Lagavulin and Talisker, that's true good stuff )
"Interesting whisky but it won't shake your world neither"
89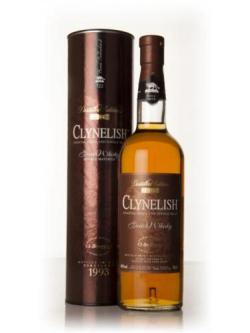 This dram has a amber-like color.

Nose (89): more than average. honey, citrus, spices, hazelnuts, floral.

Palate (89): powerful, oily. honey, nuts, wood, citrus, floral, vanilla.

Finish (89): longer than average. honey, wood, citrus.

So based on other whiskies I have already tasted I rate this Clynelish 1993 Oloroso Sherry - Distillers Edition with 89 points over 100.

I think you can buy better things with your money. But still it is a good whisky that is a bit short of being really great and enjoyable.