"It is a real pity it is so expensive, because it is an awesome whisky."
93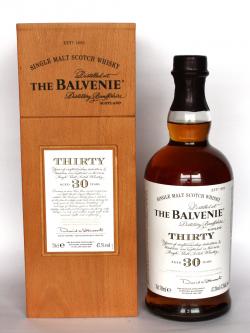 Drawing on more than three decades experience our Malt Master David Stewart has created the Balvenie Thirty from a selection of the finest vintage casks laid down during his early years at the Balvenie Distillery.

A marriage of Balvenie aged in traditional whisky oak casks and European oak sherry casks. Thirty is a rich and mellow single malt with unusual depth and complexity.

Very expensive, elitist, deluxe, yeah, it is simply the best Balvenie I have ever tried. Save for this one!


This dram has a cooper-like color.

Nose (93): strong. candies, vanilla, wood, nuts, citrus, floral. It is a mystic experience to nose how the honey present in younger Balvenies turns into candies on this granma. Delicious.

Palate (94): oily, viscous, powerful. candies, wood, spices, honey, floral, citrus, nuts.

Finish (93): very long. floral, honey, vanilla, peaches, wood.

So based on other whiskies I have already tasted I rate this Balvenie 30 year with 93 points over 100.