I have just received a sample of the new Scallywag from Douglas Laing. I really wanted to taste this new whisky since I listen about it at The Whisky Show because it was described as a whisky that it is to Speyside what Big Peat was for Islay.
If you know about malt whisky, you for sure know that Speyside is one of the areas of Scotland that concentrates most distilleries around the Spey river. Their single malts are usually sweet, floral with notes of honey and oranges, with some fantastic examples as The Macallan, Glendronach, The Glenrothes, Glenlivet… all "The" important stuff is there.
So Scallywag is a new blended malt whisky created by Douglas Laing using just single malt whiskies from the Speyside region to create this fantastic whisky. Douglas Laing remarks that they wanted to remark the sweet and orange zesty character of Speyside whiskies on this vatted malt. It is blended malt whisky with single malts aged in oloroso sherry butts and ex-bourbon cask. It sounds like tasting, so let's drink it.
Scallywag Blended Malt Douglas Laing
"Wonderful whisky! It really is a great example of what a Speyside whisky can be"
91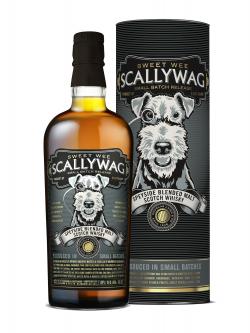 A great vatted malt whisky, or blended malt as they say nowdays, made with whiskies from the Speyside, bottled at 46% ABV and non chill-filtered.

This whisky is a(nother) real treat that Douglas Laing release often. Highly recommended.

This dram has a amber-like color.

Nose (90): more than average. honey, nuts, vanilla, oranges, spices.

Palate (91): powerful, oily. honey, oranges, spices, citrus, floral, cinnamon.

Finish (91): longer than average. honey, spices, oranges.

So based on other whiskies I have already tasted I rate this Scallywag Blended Malt Douglas Laing with 91 points over 100.
Buy this bottle at
Save money when you buy Blended Malt Whisky online. Check for the best prices from best online shops below:
Miguel says…
This Scallywag is simply fantastic. It has the right amount of sherry and vanilla sweetness with all with a great orange aromas that you would expect of a Speyside whisky ( maybe a big part of Glenrothes here? ). Strongly recommended specially for those of you that like sherried whiskies but not to powerful ( who said Glenfarclas?! ). By the way, A Wardrobe of Whisky turned three years so don't miss your chance to win a £100 bottle of whisky.