Oh My God! I did this incredible Highland Park Tasting ten days ago and I still haven't find time to write this article… I have no excuses, well, no, in fact, I really have, a friend of mine told me about Homeland and I have been watching First and Second seasons since then. But no more excuses, you really need to know about these whiskies that unfortunately are Duty-free/Travel retail exclusives.
I am not a huge fan of Highland Park because they don't send me samples because I can get as good whiskies as Highland Park for less money. A few years ago someone once told me that there are two kind of Highland Park whiskies: overwatered and overpriced. I though it was a joke and although there are fantastic whiskies ( and I mean really crazy good whiskies ) on this tasting all of them goes to one or the other category. That's said I have to say that I love the 25yo and the 30yo. Outstanding malts!.
Oouch! If I keep writing like this I won't be able to watch another chapter of Homeland before the day ends, so let me show you what we tasted on the #HPWarriorTT.
Highland Park has released a range of whisky called The Warriors to pay homage to famous Orkney viking chiefs and so named the range of six bottles after them. So let's review the whiskies…
Highland Park Svein
The first entry on the Warriors. It is has a high proportion of American Oak on it and it was created to mirror the hospitable and generous nature of many of the Viking leaders. Bottled at 40% ABV. €40.
Bang for the buck I think this is my favorite. It is decently powerful, with lots of spices and vanilla and barely €40
Highland Park Einar
Next whisky is Highland Park Einar that was designed as a tribute to one of the most feared and ruthless Vikings of his time. Bottled too at 40%. €53.
This one isn't really impressive ( yep, on the overwatered category ).
Highland Park Harald
Named after King Harald ( any one knows him? ). Bottled at 40% ABV. €75.

"There is a more bold smoky character on this Highland Park whisky that in others of the Warriors range. If only it would have had an extra 6% alcohol when bottled..."
89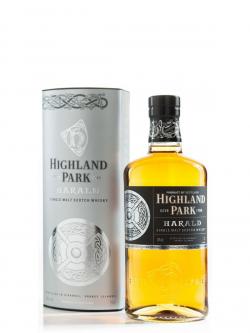 This dram has a gold-like color.

Nose (89): more than average. honey, wood, vanilla, porridge, smoke, citrus, floral.

Palate (89): light, smooth. honey, smoke, wood, cocoa, citrus, coffee.

Finish (88): longer than average. honey, pepper, citrus.

So based on other whiskies I have already tasted I rate this Highland Park Harald with 89 points over 100.
Buy this bottle at
Save money when you buy Single Malt Whisky online. Check for the best prices from best online shops below:



Not bad but again a bit more of ABV would have done the work…
Highland Park Sigurd
So the previous three whiskies were part of the "affordable" range of Warriors whiskies. Now let me show the interesting part ( if you forget Svein ) but unfortunately the overpriced one. Really, I think Highland Park loves so much their whiskies that they price them so expensive so none buys them.
So Highland Park Sigurd is named after the strongest & most courageous warriors and ultimately one of the most feared Viking Earls. This whisky, Ragnavald and Thorfinn features a bigger part of european oak casks on the recipe ( Yep the one that used to have lovely tasty sherry inside ). Bottled at 43% ABV. €150
Is it good? Aye it is! But €150 it is a steep price… I am thinking about Loki right now… Would I buy it? Really I would say no, €150, 43%, NAS… not interesting.
Highland Park Ragnavald
Highland Park Ragnvald is named after an Orkney viking chief that was most at home aboard his longship undertaking his many great expeditions throughout the Middle East & Asia. Bottled at 44.6%. $euro;400
This malt whisky is serious stuff. I love it. But really, are you serious? €400?! I can't afford that, not even for a 35yo Port Ellen… It is a pity because this whisky would have been a crack for £100
Highland Park Thorfinn
And the last one is Highland Park Thorfinn, named after a man of much power and influence, who at one stage controlled the whole of the Orkney Islands. The Orkneyinga Saga described him as a great chief, the tallest and strongest of men whose remains are buried in St Magnus ( Yep, this very same St. Magnus ) Cathedral on Orkney. Bottled at 45.1% ABV. €1000
This is maybe the best whisky I have tasted on the whole year ( and I have tasted a lot of whiskies ). It is to the level of the Karuizawas I tasted at The Whisky Show and it is really a jewel… and well, it is priced like one.
Miguel says…
Yahoo! A wonderful tasting. As I said I am not a "fan" of Highland Park but really the quality of the drams tasted was so awesome that made me want them badly… and if only prices were better one of these malts would be in my list of Best whiskies for this Xmas.
Thanks to Highland Park for the samples, and to Daryl Haldane, Global Brand Advocate for Highland Park Single Malt Scotch Whisky for a delightful tweet tasting experience.