"Marvelous! Incrediblely good Highland Park. A sherry marvel if you ask me"
93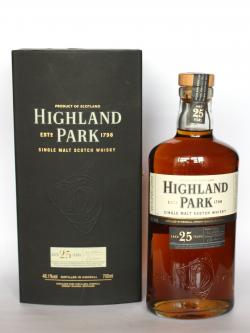 Highland Park 25yo is a terrifically complex, rich, woody, sherried dram.

Distilled at the remote island of Orkney on the north of Scotland in the Highland Park distillery. One of the last that still does in-site malting.

It seems as if this release will be the last at cask strength as the company is running low on stocks, so don't tarry too long if you want one of these great single malt whiskies.


This dram has a cooper-like color.

Nose (93): more than average. honey, wood, fruits, plums, smoke, floral, spices, pepper, a little cinnamon.

Palate (92): smooth, powerful. honey, wood, spices, pepper, leather, nuts, cocoa. Impressive sherry character.

Finish (93): longer than average. honey, nuts, spices.

So based on other whiskies I have already tasted I rate this Highland Park 25 year with 93 points over 100.