Well, here it is!
I have been wanting to taste this Highland Park Loki dram since I bought the sample a few weeks ago. I didn't buy Highland Park Thor because I thought it was a clear rip-off and after tasting it I clearly reaffirmed on my opinion.
But with this Loki… something happened. Just forget about the horrible amount of money that Highland Park spent on promoting the stuff ( save a bit and send me a sample next time! ), just forget about all the buzzing around the whisky PR. The thing that turned me into buying one of the most mis-priced whiskies I have had lately was Serge Valentin's review at Whiskyfun. I really trust Serge judgement and although we don't have exactly the same tastes I know he enjoys good whiskies and so do I.
So the problem was there, the whisky was also clearly another rip-off but after a 92p review by Serge it would be sold out before I could be able to taste it, so I ate my own words and ordered a bottle ( I am a collector nor an investor ) and decided to give it a try.
So much bullshit has been written about this whisky that I wasn't even sure what to expect: enigmatic, elusive, chameleonic, … So there I went. The whisky…
"I am happy with the bottle that I have bought. Loki is definitively better than Thor but still I think it has a wrong price tag"
91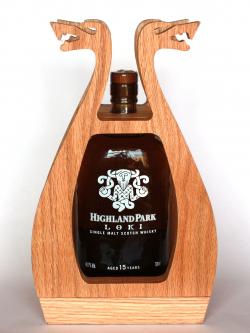 The second entry in Highland Park's Valhalla Collection is a whisky representing the shape-shifting nature of Loki, the trickster. Aged for 15 years and presented in the collection's Viking longship inspired wooden frame, it's a whisky that changes between nose and palate, and shifts around in the glass.
TODO: Check if strength is 48% or 48.7%

This dram has a amber-like color.

Nose (92): more than average. honey, fruits, figs, spices, pinneapple, custard, wood.

Palate (90): powerful, oily. honey, spices, wood, citrus, mango, pepper, candies. I would have never guessed this dram was a Highland Park... so disguissed... it is strangely fruity and looks much older than 15 years old.

Finish (90): longer than average. honey, wood, mango.

So based on other whiskies I have already tasted I rate this Highland Park Loki / 15 Year Old / Valhalla Collection Island Whisky with 91 points over 100.

Miguel says…
So? Well, as you read the whisky is fine. It is better than Highland Park Thor in my opinion, more complex and fruity, and to be fair it doesn't look like 15 years old… but still £150… you can buy a lot of bottles, and I mean a lot, with £150…
Buy if you have the bucks and don't care about them, other wise go and grab a bottle of Highland Park 18 and enjoy it!