Day 5 of Maverick Drinks' Whisky Advent Calendar. An old time favorite: the Bowmore 12 years old. This is one of the first whiskies that I tasted and I am really kind of its peatiness… until I tasted an Ardbeg. Most connoisseurs rule out this dram because… not sure… maybe because it is affordable and decent? I would really give it a try if you like peated whiskies.
"Nice dram ( and consistent ) but it miss that crazy little bit that turns good whisky into fantastic drams. If you want subtle peat punch, then this Bowmore is your dram"
89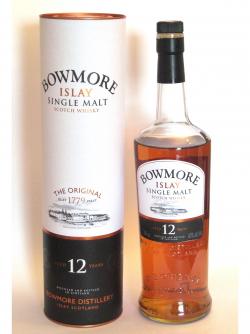 Established in 1779, Bowmore Distillery is one of the oldest distilleries in Scotland and nestles on the shores of Loch Indaal on the Inner Hebridean Isle of Islay.

Bowmore is universally regarded as the best balanced of all the Islay malts, as characterised by its wonderfully rich and complex flavors.

This dram has a amber-like color.

Nose (89): more than average. peat, honey, citrus, salt, vanilla, spices, earth.

Palate (89): powerful, oily. honey, peat, citrus, salt, wood, vanilla, earth.

Finish (89): longer than average. honey, peat, spices.

So based on other whiskies I have already tasted I rate this Bowmore 12 year with 89 points over 100.
Buy this bottle at
Save money when you buy Single Malt Whisky online. Check for the best prices from best online shops below:
You can order your own #whiskyadvent calendar at Master of Malt. Hurry up! Or you will have to drink it all on the same day :)