"Great fruity flavor! And what about that peat... oh my God! Why did they close it?"
93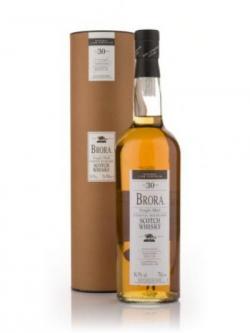 Part of a series of seven releases that Diageo does from the Brora distillery, this is the fourth release of Brora 30 year old and was launched in 2005.

There are some cereal notes, with oily spice and a nice breath of smoke.

Brora distillery was closed in 1983 and it is now lost. So these series of cask strength bottles are what it is left of the stocks of this once great distillery that was put out of business mainly by Clynelish, built in front of Brora.


This dram has a amber-like color.

Nose (92): powerful. fruits, banana, floral, spices, honey, peat.

Palate (94): light, oily, powerful. floral, fruits, banana, spices, wood, wax, peat, honey.

Finish (93): very long. floral, spices, a little wood.

So based on other whiskies I have already tasted I rate this Brora 30 years 2005 Release with 93 points over 100.
Buy this bottle at
Save money when you buy Single Malt Whisky online. Check for the best prices from best online shops below: