I am lagging behind but here it is the review of Maverick Drinks' Whisky Advent Calendar. This is the first day of the calendar and the chosen whisky is Haig Club ( is it the same for everyone?! ).
I have to say that I like the idea of selling grain whisky, I like the idea of the whisky being supported by a relevant ( used-to-be relevant ) football player, I like the idea of selling a nice packaging… but definitively what I don't like, is the fact that I am being sold young cheap grain whisky for the price of a Balvenie 15 years old for example…
"It is promising but it is also young and still should sleep more years in the cask. I wouldn't buy it... for drinking I mean"
85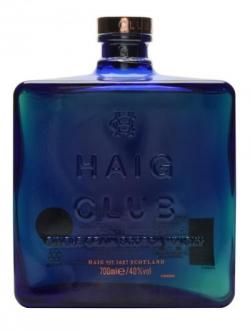 Named for the founder of Cameronbridge distillery, John Haig, and created in partnership with David Beckham and Simon Fuller, the Haig Club is a light and sweet grain whisky created to open the world of whisky to a new group - those who don't think they like whisky. Fantastic over ice, in long drinks or in short cocktails, it's an easy-drinking dram that'll win anyone over.

This dram has a gold-like color.

Nose (84): more than average. honey, corn, citrus, toffee, vanilla, alcohol. Not bad but a few years more inside a cask won't hurt it neither...

Palate (85): light, smooth. honey, citrus, vanilla, wood, spices, toffee, alcohol.

Finish (85): average. honey, toffee.

So based on other whiskies I have already tasted I rate this Haig Club Single Grain Whisky Single Grain Scotch Whisky with 85 points over 100.
Buy this bottle at
Save money when you buy Grain whisky online. Check for the best prices from best online shops below:
Excited with the calendar… 23 days ahead of surprises! And it can't be worse! I am loving this #whiskyadvent And you aren't late yet for getting one for yourself at Master of Malt
Whisky Advent Calendar: http://www.masterofmalt.com/whiskies/drinks-by-the-dram/the-whisky-advent-calendar/