The Macallan used to be synonymous of sherried whiskies until they launched their Fine Oak range a few years ago.
Now they are back to their origins with a no age statement range of bottles called the Macallan 1824 series that is composed right now of 4 bottles all of the aged in sherry butts.
But if there is a Macallan that shine over all of them, yes, even over the 18 years old, it is the 10 years old Cask Strength.
Let me try to show how good it is…

"Most mindblowing awesomeness! And to think that I bought two of this Macallan for €50 just a few years ago... best buy ever!"
92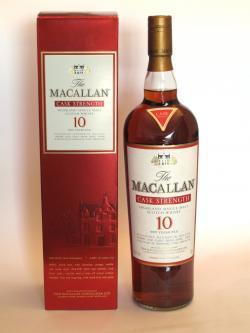 The Macallan Sherry Oak is exclusively matured in selected sherry oak casks from Jerez, Spain instead of using different kind of casks as the Fine Oak range does.

This expression is matured for 10 years and then bottled at original cask strength without chill filtration or the addition of water. The result is a particularly rich Single Malt, best enjoyed with a splash of water to release the complex aromas and sumptuous flavours.

Even if the prices on the Internet are high this Macallan is worth every penny you pay for it.

This dram has a old oak-like color.

Nose (91): more than average. nuts, honey, citrus, wood, cinnamon. Marvelous!

Palate (92): powerful, oily. nuts, honey, wood, citrus, cocoa, tobacco. The epitome of sherry aged drams. I love this profile.

Finish (92): longer than average. nuts, honey, citrus.

So based on other whiskies I have already tasted I rate this Macallan 10 year Sherry Oak Cask Strength with 92 points over 100.

I think that paying £125 for this whisky is nuts but it is so crazy awesome… You should have read me before and stocked when it was still affordable.