"A master piece. A whisky that makes George T Stagg bourbon to palish."
94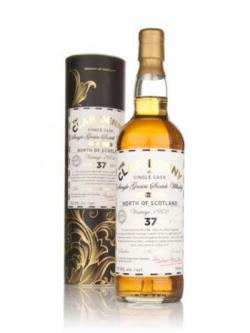 This single grain whisky comes from the now close and lost North of Scotland distillery.

Producing only grain whisky, this distillery created this marvel of 37 years old. A frankly amazing age of whisky for the price.

If you ever see it again, buy it!


This dram has a amber-like color.

Nose (93): strong. corn, honey, wood, vanilla, spices, cinnamon, citrus. What a wonderful nose! As good as George T Stagg

Palate (96): powerful, oily. corn, honey, vanilla, citrus, pepper, cinnamon, cardamon, wood.

Finish (93): long. corn, wood, honey, cinnamon, spices.

So based on other whiskies I have already tasted I rate this North of Scotland 37 year 1972 The Clan Denny with 94 points over 100.