I tasted this Glenfarclas 105 20 years old with George Grant at The Whisky Exchange Show 2012. It has been quite an experience and a real pity I had so much whisky to taste because Glenfarclas stand was exquisitely filled with some of their best whiskies.
So talking about the whisky…
"Interesting Glenfarclas... but I still prefer the standard range of bottles to the 105 version. And it is strange because I usually enjoy more whisky at cask strength"
89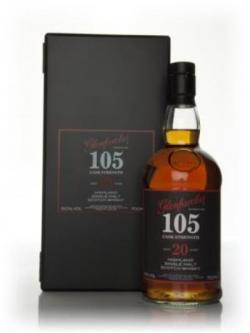 The Glenfarclas 105, which is a 10 year old high strength Glenfarclas, is one of the greatest everyday whiskies.

If any criticism could be levelled at it, it might be that it doesn't have an enough ageing. So Glenfarclas have created this limited release twenty year old to satisfy that demand.

This dram has a cooper-like color.

Nose (89): more than average. honey, nuts, leather, citrus. Smells young with a huge sherry nose.

Palate (90): powerful, oily. honey, nuts, leather, citrus, floral.

Finish (89): longer than average. honey, leather, citrus, pepper.

So based on other whiskies I have already tasted I rate this Glenfarclas 105 20 Year Old with 89 points over 100.