"Not sure if this Johnnie Walker Platinum is a bit step over old Gold Reserve, but definitively it is over the actual bottle"
89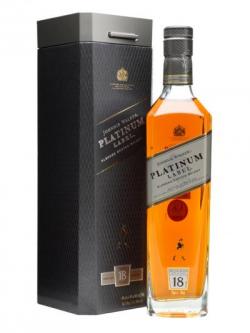 Originally introduced solely into travel retail, the Platinum Label (the first new'colour' to be introduced into the Johnnie Walker range for years) has now made it out into the wider world. It's a rich and refined blend of whiskies matured for at least 18 years that slips perfectly into the range just behind the iconic Blue Label.

This dram has a amber-like color.

Nose (89): more than average. honey, spices, smoke, citrus.

Palate (89): powerful. honey, peat, vanilla, fruits, smoke.

Finish (89): longer than average. honey, floral, smoke.

So based on other whiskies I have already tasted I rate this Johnnie Walker 18 Year Old Platinum Label Blended Scotch Whisky with 89 points over 100.
Buy this bottle at
Save money when you buy Blended Whisky online. Check for the best prices from best online shops below: