"Incredible rye whiskey! Spicy hot liquid honey!"
90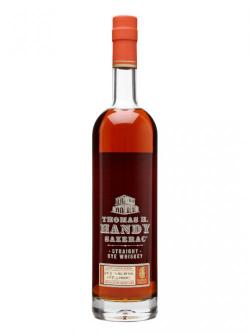 The 2011 bottling of Thomas H Handy's Sazerac, the multi-award winning straight rye and one of the cornerstones of Buffalo Trace's yearly Antique Collection releases.

A vibrant and super-spicy rye that is worth the hype.

If you like this rye whiskey, you should check the other two bourbons of the Antique Collection: William Larue Weller and George T Stagg. Mindblowing stuff if you ask my opinion.


This dram has a amber-like color.

Nose (89): more than average. floral, honey, spices, bread, wood.

Palate (92): smooth, powerful, oily. honey, corn, spices, pepper, gnger, wood.

Finish (90): longer than average. honey, corn, floral.

So based on other whiskies I have already tasted I rate this Thomas H Handy Sazerac / Bot.2011 Straight Rye Whiskey with 90 points over 100.