The Third of May 1808 is a painting completed in 1814 by the Spanish painter Francisco Goya, now in the Museo del Prado, Madrid. In the work, Goya sought to commemorate Spanish resistance to Napoleon's armies during the occupation of 1808.
The picture
The painting's content, presentation, and emotional force secure its status as a groundbreaking, archetypal image of the horrors of war. Although it draws on many sources from both high and popular art, The Third of May 1808 marks a clear break from convention. Diverging from the traditions of Christian art and traditional depictions of war, it has no distinct precedent, and is acknowledged as one of the first paintings of the modern era.
According to the art historian Kenneth Clark, The Third of May 1808 is "the first great picture which can be called revolutionary in every sense of the word, in style, in subject, and in intention".
The Third of May 1808 has inspired a number of other major paintings, including a series by Édouard Manet, and Pablo Picasso's Massacre in Korea as well as his masterpiece Guernica.
The dram: DYC Blended Whisky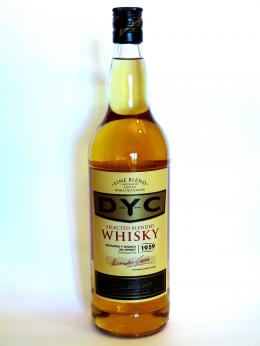 Irregular Spanish forces considerably aided the Spanish, Portuguese, and British armies jointly led by the 1st Duke of Wellington, who first landed in Portugal in August 1808. By the time of the painting's conception, the public imagination had made the rioters symbols of heroism and patriotism.
So which better rebel whisky to chose than DYC. DYC whisky is marketed to be low budget and is popular in Spain as it is much cheaper than Scottish, Irish or American whiskies. It is designed to be mixed with non alcoholic beverages and be easy drinking in the hot weather. This regular DYC release is a blend of malt and grain whiskies that have been matured in crianza red wine casks.
DYC, like the guerrilla members, isn't an outstanding whisky but add two rocks and a coke and enjoy the hot spanish night!.
[buy-button permalink="dyc-5-year"]