"It is a nice Macallan whisky with a very interesting nose. I wonder how old is it..."
88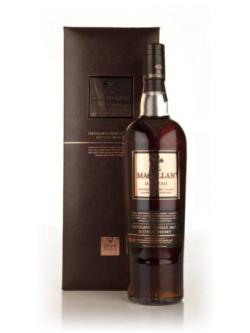 Interesting single malt whisky from this Speyside distillery.

Originally a travel retail exclusive, Macallan Oscuro is a combination of casks of whisky distilled between 1987 and 1997. They have combined the collect ability of Macallan with their trademark rich sherried elegance to create a much sought after whisky.

This is a great sherried single malt whisky that is part of the the 1824 Collection that was originally created as a travel retail exclusive.



This dram has a old oak-like color.

Nose (87): more than average. molasses, floral, citrus, vanilla, spices, nut meg. Interesting aromas for a Macallan. Smells more like a very old naval rum.

Palate (88): powerful, oily. honey, wood, citrus, spices, vanilla, floral.

Finish (88): longer than average. honey, wood, spices, floral.

So based on other whiskies I have already tasted I rate this The Macallan Oscuro with 88 points over 100.
Buy this bottle at
Save money when you buy Single Malt Whisky online. Check for the best prices from best online shops below: