Just a few days ago I got a parcel with a small delightful surprise! As every year, and just in time for Christmas, Master of Malt has released their new 30 years old Speyside Secret Bottling.
If you know about previous releases ( 4th, 3rd ) the level was already quite high, and after tasting their delicious That Boutique-y Whiskies one can wonder if there is room for improvement.
Well, yes, there is!
"Absolutely delightful dram! Maybe a Glenfarclas? A bargain for its price whatever distillery it is source from. Highly recommended"
92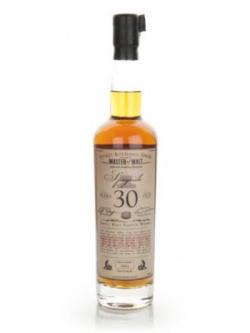 This is the fifth edition of Master of Malt thirty year old Speyside Scotch Single Malt Whisky.

This edition is completed with a new bottle and label design whilst the distillery remains secret, as previous ones, and the whisky sherried. A truly amazing aged Speyside.

This dram has a tawny-like color.

Nose (92): more than average. honey, wood, spices, dates, citrus. Super stuff! Maybe Glenfarclas? Delicious nose in any case.

Palate (92): powerful, oily. honey, nuts, wood, cocoa, spices, cinnamon, citrus. Absolutely delightful.

Finish (91): longer than average. honey, wood, spices, citrus.

So based on other whiskies I have already tasted I rate this Master of Malt 30 Year Old Speyside (5th Edition) with 92 points over 100.